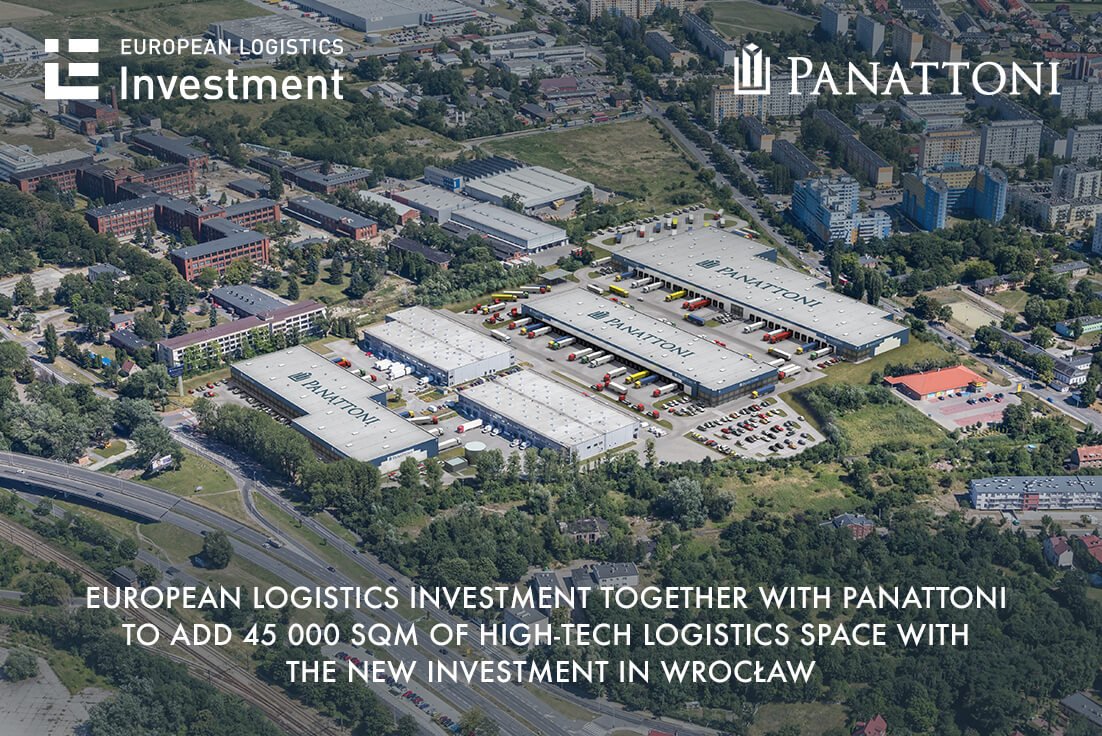 European Logistics Investment BV (ELI) has acquired two warehouse facilities located in Wrocław – one of the main logistics spots in the CEE region. ELI, together with its partner Panattoni, plans to further develop the site in order to deliver City Logistics Wrocław North totalling 45 000 sqm of high-quality logistics space.
European Logistics Investment (ELI), a dynamically developing logistics platform in Poland, has purchased an existing warehouse complex comprising of two buildings with a total GLA of 9 500 sqm and investment land of approximately 13 hectares, with plans to redevelop the site, together with its strategic partner, Panattoni – a market leading European logistic developer. The park is currently 100% leased to FedEx Express, Topus and DHL. Upon completion, City Logistics Wrocław North will provide a total GLA of 45 000 sqm, including 41 000 sqm of warehouse and 4 000 sqm of office space, 430 private car, 68 VAN and 54 truck parking spaces, ESFR sprinkler system, 70 dock levellers and 24/7 security. The project includes adding three buildings to the existing scheme and will be completed in phases.
City Logistics Wrocław North is conveniently located in the central part of Psie Pole – in the warehouse-trade cluster of Wrocław, which offers both local highly-skilled technology workforce and great connectivity within the city and the CEE region by car, plane and public transportation. Wrocław is situated strategically between Warsaw, Berlin and Prague, and the location itself provides a handy access to the S8 (Warsaw-Łódź-Wrocław-Prague) and A8 (ringroad) motorways, a good connection with Wrocław downtown (a 15-minute drive) and the International Airport within a 30-minute distance, as well as access to public transportation with a bus and train stops in the walking distance.
Wrocław's region with its strategic location and qualified workforce has been on ELI's radar since it started the rise towards becoming the market leading logistics platform in Poland. With the latest trends, like the expansion of e-commerce, relocation of supply chain and logistics processes to Central Europe and growing regional supply chain market, which have been intensified during the pandemic, Wrocław is bringing even more interest from top global investors and industry occupiers as one of the main logistics spots in the CEE region. That is why, we decided to expand ELI's diverse portfolio to include this premier logistics hub location, says Łukasz Toczek, Senior Vice President Investments at Griffin Real Estate responsible for ELI platform development.
We are sure, that our newest development, executed together with ELI, will not only be yet another milestone in our successful cooperation but will also become one of the most sought-after logistics destinations in Central Europe, says Robert Dobrzycki, Panattoni CEO.
Portfolio of European Logistics Investment BV (ELI) comprises sixteen logistics parks with a total lease area of over half a million sqm located in the most important logistics regions in Poland, including Warsaw, Łódź, Kraków and Upper Silesia. The company plans further growth of the portfolio over the next years, to become the leading Polish logistic platform. ELI's strategic partner is Panattoni Europe, the European leader in industrial real estate.